Maryville Adult Martial Arts
Get The Best Workout In Town With Adult Martial Arts Training
Looking for a new way to stay in shape? Look no further than our Adult Martial Arts Classes at Church's Taekwondo America, where you can have fun working out while you build important self-defense skills and enjoy an unbelievable sense of accomplishment. Our Adult Martial Arts Classes are perfect for men and women in Maryville ages 16 and up of all experience levels and backgrounds!
Enjoy Adult Martial Arts No Matter What Your Ability Level Is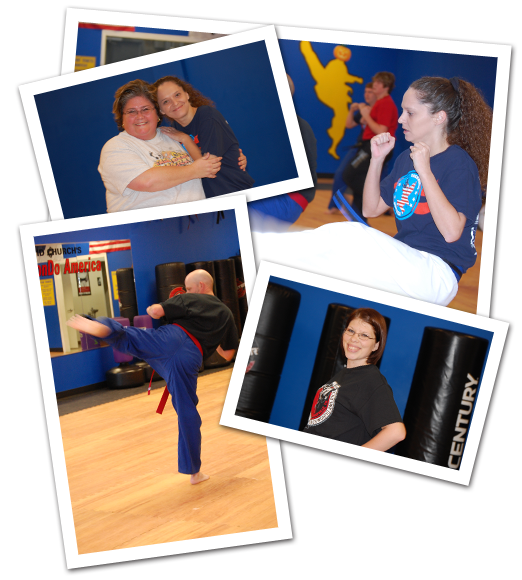 Never once taken a martial arts class in your life? Not a problem! Our Adult Martial Arts classes were created to be perfect for ALL students, no matter what shape you're in or what your ability levels are. All of our classes are adaptable to your skillset and our highly skilled instructors are trained to help you get the most out of your training.
Challenge yourself today and enjoy amazing benefits like:
Healthy, sustained weight loss
Toned, lean muscles
Boosted cardiovascular health
Incredible self-confidence
Boost Your Energy And Reduce Your Stress With Adult Martial Arts Training
We all have to deal with stress in our lives, but at Church's Taekwondo America, you can leave it all behind! Our Adult Martial Arts classes will help your burn off some steam and stretch out your body after a long day sitting at work. You'll leave each class feeling accomplished and rejuvenated knowing you got the most out of your body.
After just a few classes you'll notice:
Improved sleep patterns
Less stress on a daily basis
Increased energy in all areas of your life
Reductions in the pain and discomfort that comes with inactivity
Improve Your Life Today With Adult Martial Arts - Sign Up Now!
Don't waste another day searching for the perfect training program. Join us at Church's Taekwondo America and change your life with our Adult Martial Arts Classes. You'll immediately enjoy the comradery of our classes and you'll notice improvements in all aspects of your life.
To get started today or the request more information on the many classes we offer in Maryville, simply fill out the form on your screen and a member of our staff will take it from there